This is a hard post to write! As you know, I launched my Apparel shop a couple of months ago. I poured my heart, and many many hours into the design and perfecting of every element. Lots of time spent researching, and lots of heart put into each new design, photoshoots happened. Thank you Laura and Shannon! I enjoyed it, but gosh I invested quite a bit of time into the whole endevour. It was a dream I had, and once it was there in this wonderfully cluttered brain of mine, there was no burying it. It just kept resurfacing, and ideas began to form quicker than I could write them down. The inspiration was there, and I am SO glad I just decided to go with it. You all have been so very supportive! For that I am oh so thankful!
The lovely miss colefranke wearing "Coffee First"
So, what happened? Well, the first kink to my plan came a couple of days before launching. After spending hours and a few weeks building and developing my store... I tried to set-up the shipping aspect, and realized that my shipping options were not as reasonable as I had originally thought they would be. See, in order for this 3rd baby of mine to even be possible I had to sub out the printing and packaging, and shipping of orders. This was something I struggled with- giving up control was hard. But this company was very professional and had really good reviews. It was let them handle it, or kiss my dream good-bye. So, I ordered samples, and was quite pleased. What I just neglected to consider, was just how expensive it was going to cost them to ship a stuffed throw pillow. A minimum of 10.00? Gosh- that seemed expensive. So, I went in and decided to offer just the cover as an option for customers, so they could save a little on shipping. But in the end- the shipping was going to really hurt me. I lowered the profit of what I was making on each, so that I could eat the cost of shipping a little... but you know what?  Then I was back to earning what I was making on zazzle!
Elizabeth of Delightfully Tacky wearing "Wild and Free"
That was a hard realization to have. But, I kept trucking along. Orders were coming in- and I was really excited about that! Then- the second kink landed, and it was the final straw on the camel's back for me... a week after an order had been placed by a customer I received an e-mail from the company telling me that the stock wasn't there for this order, and I could cancel or contact the customer and ask if they wanted to wait for stock to arrive. A week later, after an order is placed I'm generally expecting my order to have been shipped, or shipping very soon. So, to have to contact a customer and at that point to let them know the stock wasn't there- well it was embarrasing. Not good customer service in my opinion and I worried that this would end up tarnishing my really good customer service rep! It happened on 4 other orders. Thankfully since that first backordered item, I happened to jump on over to Zazzle for something. It had been a really long time since I had taken a look at the new products they were offering. Fleece throw blankets, (my sample came in today and I love it!) pillows of all different sizes- and even round ones!! You can pay for premium grade, or go the cheaper option of Polyester. I fell in love with Zazzle all over again. They will still be handling printing and order fulfillment for me, but they handle customer service, and I feel do a great job at it.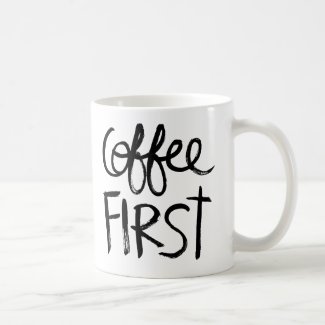 Coffee First Coffee Mugs
by
VolumeTwentyFive
Browse more Two image Mugs at
Zazzle
 I decided to open up a 2nd zazzle store, and move over my new Brush Script designs into it. I can now offer those same designs on over 100 different clothing items. Mens, Womens, v-neck, sweaters, kids. They also print on American Apparel, in addition to a few other brands. Yay for more choices!  I even have the new brush script designs on cell phone cases, and various throw pillows. I'm still building up stock over there, but I am giving Zazzle more of my attention. I'm re-organizing my first zazzle store, and getting some order to that as well. It is confusing having two stores with similar names, and I will be re-directing my volume twenty five domain to my zazzle store. 
I don't have as much control over the design of my store, but it is free! I can invest time into it when I have it, and I won't be stuck paying a monthly plan like I was with my previous shop. :)
Another really really good perk to zazzle is they offer sales that I couldn't offer in my own shop. Today they are offering  %50 off throw pillows! Code: 4GIFTSFORALL
Coffee First Pillow
by
VolumeTwentyFive
See more
Coffee lovers Pillows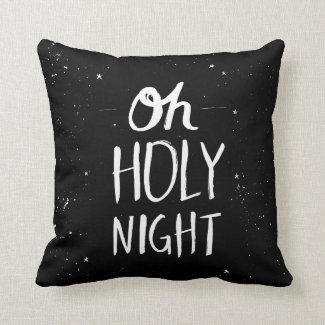 Oh holy night throw pillow
by
VolumeTwentyFive
See other
throw pillows
.
Today only- so jump on over and take advantage. December is the BEST time to order from zazzle. Killer deals. I have a few things headed my way as we speak, and I can't wait to share them with you! I'm so happy to not feel like I am in this Journey alone. I've had so much support from the very beginning. I'm really excited to really pour over all the new products and make them available to you. Also- lets talk about customization... I'm allowing more of my images to be customized- so you can TOTALLY change the background color in most all of the products being offered. Sweeet!
So, I would really love to know- what do you want to see in my zazzle shops!? Fleece blankets will be up next. Because, I was very pleased with the quality!
p.s. All orders that were placed in my previous shop are still being handled approriately. Except now, if your order happens to pop up as out of stock. I can cancel your order per youre request- or just have you purchase the same product from zazzle. :)